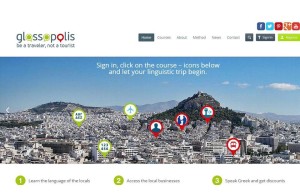 Learn Greek, support local businesses, AND save money as a reward for your efforts! Glossopolis is a travel e-learning platform providing Greek language courses for visitors to Athens who wish to enhance their stay by speaking the language of the locals with the locals. What better way to learn?
When you sign in to the Glossopolis webpage from your tablet, mobile or pc, you will have immediate access to all the educational content which is focused on the colloquial form of the language. Additionally, you will see a range of advertisements for local bars, restaurants, hotels, taxis, etc.
Visit any of the featured businesses, show your Glossopolis voucher and practise your skills by speaking Greek to the staff; you will then be entitled to receive a discount on the relevant services. So, not only do you learn, but you also save money during your stay, AND you are supporting local businesses! Let your linguistic trip begin!
The Language City
Glossopolis means the Language City. It's a city full of linguistic surprises! That means that the language you learn is a knowledge that can't be found in any book or institute. Because the language we teach you is the language of the locals! Slang, colloquial phrases, idioms, even swearwords! When you reach the place you won't use scholar phrases that no one uses but you will communicate in a way that everybody understands and be sure that they will be fully surprised by that!
Moreover, our courses show all the cultural aspects and way of living in Greece and are accompanied with plenty of exercises and cultural resources. In this way, you dive into the culture and you get to know the real life while you learn from the comfort of your home at any time you wish. Locals in the street or in places, like restaurants, taxis, bars, cafeterias, ships or activities like city tours are waiting you to speak Greek and get your discount!
Step 1 – A hidden knowledge
The language of the locals is a language that no one teaches you. No student exam, book or teacher can teach you how people communicate in their daily life and the words, phrases, idioms, they use. But Glossopolis does. Glossopolis helps you communicate in the real life, when people around you start speaking fast and using the colloquial way of expression. All the content is built considering the practical needs of the persons that visit Greece and offering a unique travel experience through the language learning. You just sign in, choose the course of the situation you may need to speak in Greek e.g. hotel, museum, pharmacy, conference, etc. and have access to courses and businesses we cooperate with.
Step 2 – The local experience
The biggest reward when learning a language is to be able to speak with the locals. This is what we want to offer you. We truly believe in the power of speaking as the best mean of language learning. So we invite you to practice with all the well trained personnel of the local businesses and ask what you want in Greek! This is what locals do and this is what will give a huge boost to your confidence since you will be understood by the locals! Just visit the businesses of our network, show you voucher to the staff, order or buy in Greek and get your reward!
Step 3 – A unique reward
Did you reach step 3? We are so proud of you! We want to reward you with a unique present! We offer you a discount for the services you used while you spoke Greek! In this way, not only do we care about your linguistic progress but we also help you save money during your holidays by living and reacting as a local!
Linguistic Tourism – Speak Greek and Get Discounts