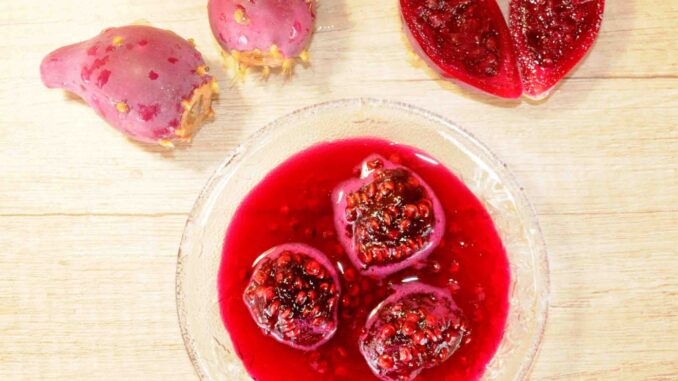 Ingredients
800 g prickly pears, peeled
800 g sugar
Juice of half a lemon
Juice of 2 lemons
1 sprig of nutmeg geranium
Directions
Carefully collect the prickly pears and very carefully remove the skin.
Pinch them with a fork, cut the two ends vertically with a knife and make a horizontal cut in the skin.
Carefully open the incision and manually grasp the flesh and remove it from the skin.
Take care to remove the flesh whole.
Put the peeled prickly pears in a pan and pour the sugar on top, sprinkle with the juice of 2 lemons and leave them overnight.
In the morning take the juices that have been released and the sugar that may not have melted and boil on low heat until the sugar has melted.
Then add the prickly pears and boil all together for another 5 minutes.
Turn off the heat and leave the prickly pears in the syrup for 6-8 hours.
When the 8 hours have passed with a slotted spoon, take out the prickly pears, put them in a bowl and boil the syrup to thicken.
To see if the syrup has the desired consistency, put some syrup on a saucer and allow to cool. Test the syrup with a spoon and if the syrup slowly drips off the spoon in drops it is ready.
When the syrup is ready, add the prickly pears, the juice of half a lemon, the nutmeg geranium sprig, boil all together for 3-4 minutes and turn off the heat.
Allow it to rest for 10 minutes, remove the nutmeg geranium sprig and while it is still hot, store in sterilized jars.
The recipe is from the website https://deliciouspath.com