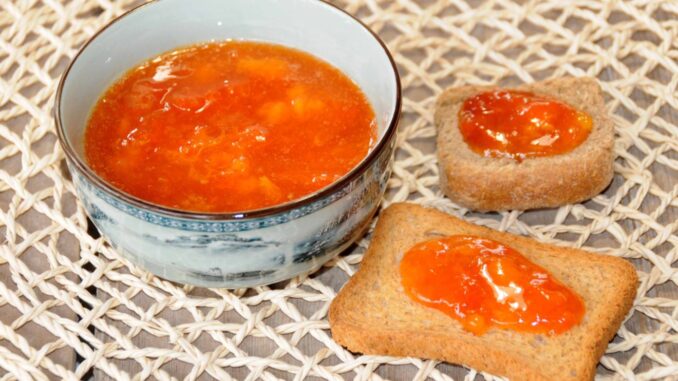 Ingredients
● 1200 g ripe apricots
● zest of 1 lemon
● 30 g water
● 800 g sugar
● 1 sachet vanilla
Directions
Wash the apricots well, slice in half and remove the pits.
Put the apricots in a pot with the water, the lemon zest and lemon juice.
On high heat, bring the pot to a boil.
Lower the heat and simmer for 10 minutes for the liquids in the pot to reduce and for the apricots to become soft.
Next, add the sugar and the vanilla.
Simmer for about 45 minutes until the syrup has thickened and the apricots have softened and reached the consistency of jam.
Once the syrup has thickened turn off the heat and leave it aside to rest.
Store in sterilized jars
To see if the jam has the desired consistency, put some on a saucer and allow to cool.
Once it has cooled tilt the plate slightly and if it is not runny, the jam is ready.
The recipe is from the website https://deliciouspath.com